Violin vigil to mark McClain death anniversary
BY ROBIN CAUDELL Press-Republican

 

Updated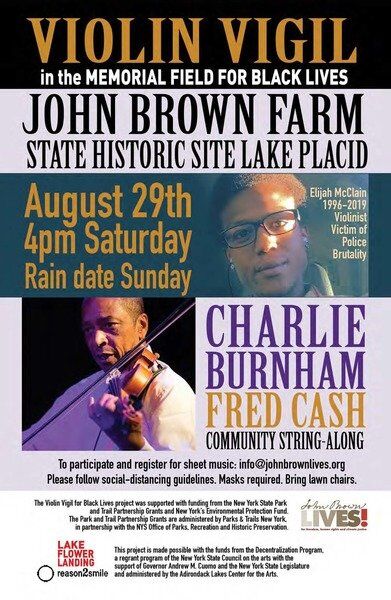 LAKE PLACID – Jazz violinist/recording artist Charlie Burnham leads the "Violin Vigil for Black Lives" 4 p.m. Sunday, Aug. 30, at the John Brown Farm State Historic Site.
PAYING RESPECT
"The vigil is specifically in honor of Elijah McClain, who was killed a year ago in Aura, Colo.," Burnham said.
"It will be a year anniversary on Sunday that he passed away."
The event is sponsored by John Brown Lives! and Lake Flower Landing.
"We plan to honor the rest of the Black Lives Matter movement as well using John Brown's Farm to do it," Burnham said.
"In this case, all string players – violins, violas, cellos, bass players – are welcome to join us. There are a few songs that we'll play that has been connected with the civil rights movement over the years."
Vigil selections are: "Amazing Grace," "We Shall Overcome" and "Let My People Go."
"I hope the songs we chose to use give us some historical context to the moment we're in," he said in a press release.
"They are all cherished and well-used songs from the repertoire of the American freedom movement."
He will be joined by Fred Cash on electric bass.
Burnham performs widely with bands as diverse as avant-blues-guitarist James Blood Umler's Odyssey, Janine Nichol's Semi-Free, String Trio of NY, Smokey Hormel's Round-Up, Henry Butler & Steve Bernstein's Hot-Seven.
His fluid approach to violin can be heard on recordings by Cassandra Wilson, Norah Jones, Living Colour, Henry Threadgill, Rufus Wainwright, and Mesdeski, Martin & Wood.
SITE INSTALLATION
The open-air, free event will be held at the Memorial Field for Black Lives, an installation by Karen Davidson Seward at the site.
One of the 50 memorials in the field is for Elijah McClain, a 23-year-old massage therapist who died after a fatal encounter with Aurora, Colorado police officers last August.
While walking home, unarmed and listening to music with his earbuds, McClain was deemed "suspicious" and violently apprehended by police.
McClain died in the hospital several days later on Aug. 30, 2019.
His death was declared a "wrongful death" in the courts.
An animal-lover, McClain played the violin to stray cats because he believed it soothed them.
His life and death have inspired spontaneous violin vigils around the country, including here in Lake Placid.
"When we participate in the violin vigils honoring Elijah McClain, we make room to reflect deeply on our country's unique problems and how they make us feel," Burnham said.
"In that moment we are free to grieve, to wrestle with our anger and despair. And then we can find a way to move in a better pattern in our future."
IF YOU GO
WHAT: Violin Vigil for Black Lives in the Memorial Field for Black Lives featuring jazz violinist Charlie Burnham and electric bassist Fred Cash.
WHEN: 4 p.m. Sunday, Aug. 30
WHERE: John Brown Farm State Historic Site, 115 John Brown Rd., Lake Placid.
ADMISSION: Free.
NOTE: Safe social-distancing, masks and advance registration at info@johnbrownlives.org are required of everyone.
Musicians who are interested in playing in the Violin Vigil should contact info@johnbrownlives.org to obtain the sheet music and they should bring their own music stand.
Others are encouraged to bring their own seating or blanket.
INSTALLATION: The Memorial Field for Black Lives will remain installed at the John Brown Farm until Nov. 1. The grounds are open daily and the historic house and gravesite and exhibition galleries are open every day except Tuesday, 10 a.m.-5 p.m.
SPONSORS: The Violin Vigil for Black Lives is sponsored by John Brown Lives! and Lake Flower Landing. This project is made possible, in part, with the funds from the Decentralization Program, a regrant program of the New York State Council on the Arts with the support of Governor Andrew M. Cuomo and the New York State Legislature and administered by the Adirondack Lakes Center for the Arts.
Both the Memorial Field for Black Lives and the Violin Vigil for Black Lives are supported with funding from the New York State Park and Trail Partnership Grants and New York's Environmental Protection Fund. The Park and Trail Partnership Grants are administered by Parks & Trails New York, in partnership with the NYS Office of Parks, Recreation and Historic Preservation.
CONTACT: For more information, contact info@johnbrownlives.org or 518-744-7112.
https://www.pressrepublican.com/news/violin-vigil-to-mark-mcclain-death-anniversary/article_bb753866-ae05-5b32-9cfe-53751524a7c5.html