Area museums receive training, tools to take their interpretation next level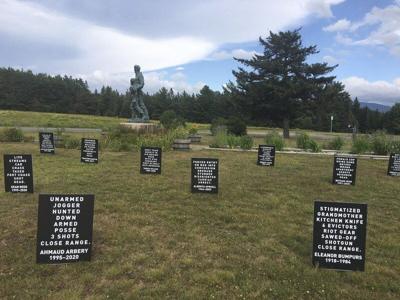 In the North Country, the Akwesasne Cultural Center and Museum, Fort Ticonderoga, John Brown Lives!, the North Star Underground Railroad Historical Association and the Sackets Harbor Battlefield State Historic Site will participate in "Building Capacity, Creating Sustainability, Growing Accessibility," an IMLS CARES Act grant project designed to help museums impacted by the COVID-19 pandemic share their collections and reach audiences who cannot physically visit their museums, according to a press release.
Two hundred staff will be trained to use new hardware and software to develop programs that will engage their communities and reach new audiences.
"We are honored to be awarded IMLS CARES act funding and excited to be able to make an impact on the work of our colleagues and their museums across New York State," Erika Sanger, MANY executive director, said.
"We are living in an age of transition, experience a radical shift in our ways of learning and communicating. The group selected captures the diversity of our shared history in NY and our nation. The stories embodied in the museums' collections and the storytelling talents of their interpretive staff are the heart of the project."
In this two-year project, museums will identify a program to virtually deliver to their audiences, focusing on developing programs from stories found in their collections that reveal cultural and racial diversity in their communities.
AKWESASNE
The Akwesasne Cultural Center and Museum had just gone through a major renovation before the COVID-19 Pandemic.
"So, our museum had a whole new look," Iakonikonriiosta, museum coordinator, said.
"We were all ready to go, and COVID shut us down."
Busloads from regional schools brought as many as 400 students daily to the museum, which houses more than 2,000 photographic objects and over 700 ethnographic objects related to the Mohawk community of Akwesasne.
"But now, we can only have six people at a time in here now because it's so small," Iakonikonriiosta said.
"The restrictions in Akwesasne are pretty tight. We don't get a lot of visitors anymore. Everything has changed. We can't have classes anymore. We have to keep them six feet apart. Every thing we were used to came to a grinding halt."
Schools called for virtual online tours, but the museum didn't have the hardware/software to deliver it.
"The MANY project, they offered the ability to do that," Iakonikonriiosta said.
"It seemed to be the answer. We will be able to have interactions with Zoom. Me and my coworker are very much looking forward to doing this."
TICONDEROGA
Fort Ticonderoga staff are thrilled to participate as a partner organization in "Building Capacity, Creating Sustainability, Growing Accessibility."
"We are excited to start working with the Museum Association of New York to help make a difference in how we reach audiences whom we can't visit in person right now," Beth L. Hill, President and CEO of the Fort Ticonderoga Association, said.
"Through this project, Museum Education Coordinator Kaitlin Long and School & Youth Programs Interpreter Corrine Swart will develop special virtual educational programs that draw specific connections between Ticonderoga's history and its community, including the rich stories of African Americans and Native Americans who were here.
"By partnering with MANY, we will be able to work with our museum peers across New York State as we continue to learn about the best technologies and online strategies to meet our audience needs."
This past spring, Fort Ticonderoga launched the Center for Digital History.
"And this new IMLS CARES/MANY partnership takes our commitment to virtual engagement to the next level," Hill said.
NORTH ELBA
IMLS CARES/MANY partnership is an incredible gift and opportunity to Martha Swan, executive director of John Brown Lives!
"It's a two-year project, which gives us the opportunity to really beef up what we can deliver and how we can deliver to virtual audiences," Swan said.
"It opens a huge doorway for programming and conversation. I just spent about an hour on the first Zoom session with some of the other project partners, and it's really kind of blowing my mind the magnitude of this project."
More than 60,000 visitors trekked to the John Brown Farm State Historic Site this season in North Elba.
"It clearly resonates with visitors concerned about racial justice and human rights today," Swan said.
"Taking our annual Blues at Timbuctoo concert online as we did last month, JBL! dipped its toes into the world of virtual programming and learned a lot.
"But we stand to exponentially increase our capacity to reach and serve wider audiences across and far beyond the Blue Line."
AUSABLE CHASM
North Country Underground Railroad Historical Association President Jackie Madison views the two-year program as kind of a certification.
"I applied for this grant because it was an opportunity for us to broaden our visibility on a virtual level because we are unable to really have visitors come into our museum or enough visitors come into our museum," Madison said.
"This will give people an opportunity to learn the stories wherever they're at. It was also an opportunity for our volunteers, because we don't really have staff, to acquire skills that they can use for other projects that we want to put out."
The Association is concentrating on two stories: the Tankard family, who were early settlers of Plattsburgh, and the Stephen Keese Smith barn in Peru, a documented Underground Railroad site.
"We'll have the skill set in house to continue to create these virtual stories after this program has ended and to teach and train others," Madison said.
Since the pandemic, the association's North Star Underground Railroad Museum at Ausable Chasm has been shuttered.
"We definitely cannot do bus tours because we would only be able to have six, maybe eight people on the bus due to the guidelines that we are under," Madison said.
"We would like to digitize the bus tour, so that people can see and learn and understand the Underground Railroad routes in this area.
"Martin Tankard was 22 when he came here. He was the famous melt master at the Crown Glass Works in Redford. This was a mixed-race family, who intermarried with locals whites, Blacks and Native Americans."
The project gives the association the means to tell these stories virtually.
"This will expand our visibility not just on a national level but on a global level," Madison said.
https://www.pressrepublican.com/news/area-museums-receive-training-tools-to-take-their-interpretation-next-level/article_3b2f5839-6f5f-5592-9bf4-dfe5678d0b90.html