Praying for Peace: Keene rally shows support for Ukraine
BY ALVIN REINER Press-Republican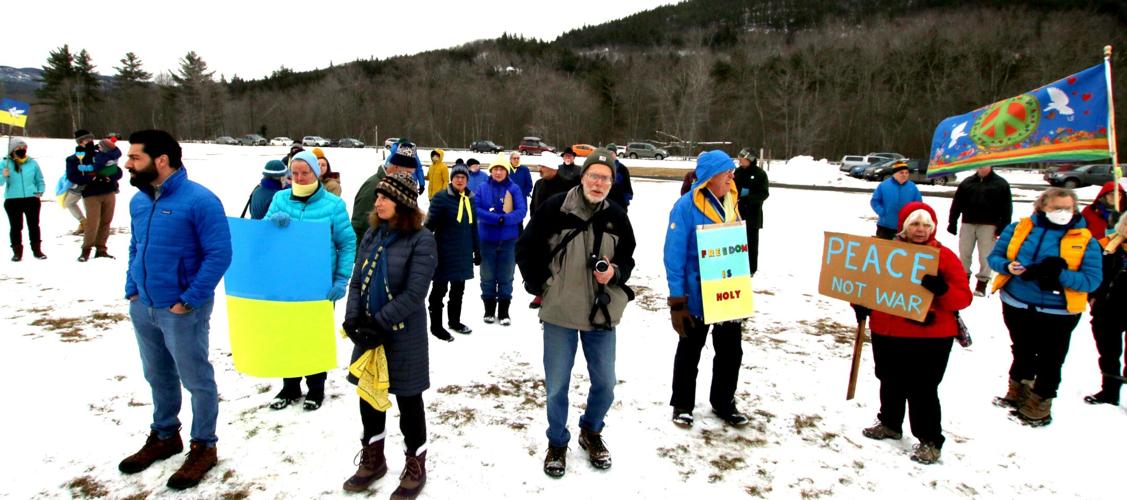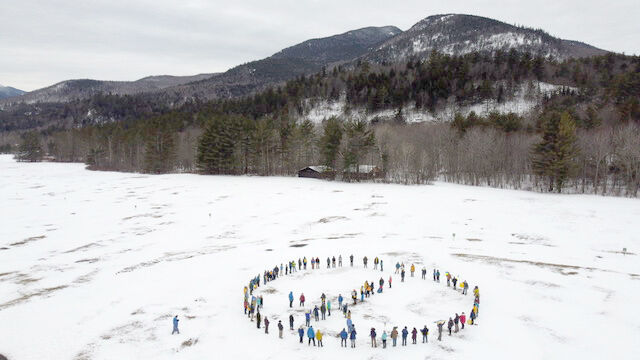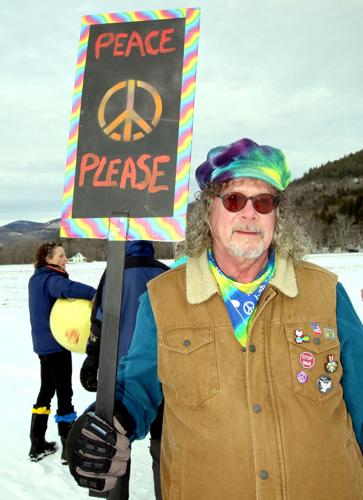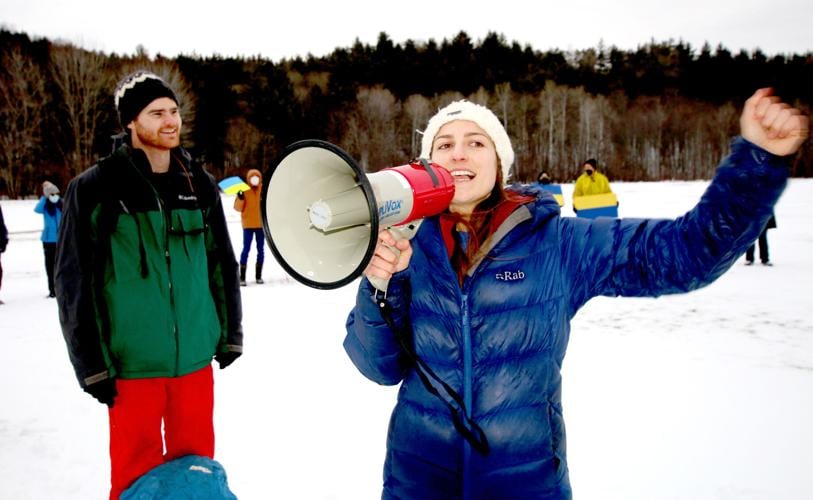 KEENE VALLEY — Almost 100 concerned citizens slogged through the snow at Marcy Field Saturday to show their support for the Ukrainian people and express their feelings on the horrors of war which have descended upon the country.
The rally was initiated by the local groups UNITE, John Brown Lives! (JBL!) and Adirondack Voters For Change (AVFC) who invited citizens from throughout the North Country to assemble and to form a giant peace sign of solidarity while calling for the immediate end to Russia's invasion of Ukraine.
Many of the participants wore colorful clothing, whenever possible blue and yellow for the people of Ukraine, and carried signs and flags denoting their support.
BLUE AND YELLOW
As a national flag, the blue and yellow bi-color had been officially used since the 1848 Spring of Nations, according to Brittanica.com.
It was officially adopted as a state flag in 1918. Ukraine acquired a distinctive flag in 1949 under the communist regime. The Red Banner of the Soviet Union with its golden hammer, sickle, and star was modified for use in Ukraine by having a horizontal stripe of light blue added at the bottom.
After Ukraine again proclaimed its independence on August 24, 1991, many fought to maintain a communist system under that flag.
Eventually, however, anticommunist forces were successful, and the flag was replaced with the nationalist blue-yellow banner on January 28, 1992.
'NO GOOD
REASON FOR WAR'
Randy V. Ketchan of Saranac Lake was resplendent with his colorful tie-die patterned attire and sign. "I am with Ukraine and want to offer them support spiritually or any way I can. There's no reason for this. No good reason for war."
Having moved to Keene several months ago, Todd Townsend and Phoebe MacPhail Townsend wanted to join the community in its efforts. Todd said, "I am hoping people from all over will see us and ask the question as to why we are here."
Phoebe added: "We just want to show solidarity and support for the people of the Ukraine. We just moved here and are happy that people are showing their concerns."
THE BRUTAL GUY
CALLED PUTIN
Mike Montgomery and Sue Montgomery Corey of Minerva held blue and yellow signs with Ukrainian capital letters "M, reversed N, P" which according to them translates to "peace." Mike said, "We are supporting the Ukrainian folks and not the brutal guy called Putin."
"We are dazzled by the Ukrainian peoples' incredible courage. It is great that there are people around the world and in the Adirondacks that are supportive of them," said Sue.
When asked why he was holding up a large yellow ball, Michael Fergot, wearing a blue denim jacket, responded, "The purpose of this ball is the fact that I have nothing in my wardrobe that is yellow."
SLAVA YKRAINI
A serendipitous and the most poignant part of the event was when Alex Fylypouych addressed the assemblage. She had been nearby taking an avalanche survival course and saw people gathering in the field and went over to see what was going on. A third generation Ukrainian, whose family fled their homeland in WWII, Alex has extended family members who are living in the besieged nation.
Trying hard not to break down, Alex haltingly said, "This event is so incredible. It's kind of therapeutic to see this happening here. The Ukrainian people are fighting for their freedom from this unprovoked attack." She Face-Time video chatted with her parents who live in Philadelphia and is hoping relatives in Ukraine would also see the proceedings.
"Slava Ykraini (Glory to Ukraine), "Heroyam Slava" (Glory to our Heroes)," she soon had the gathering chant. "Your support means the world to us. Do anything you can do. Call your government officials. Thank you so much from the bottom of my heart."
Alex indicated donations could be made to Razom (Togetherness) Ukraine.
21st Congressional District aspirants Matt Castelli and Matt Putorti were in attendance and briefly gave non-political statements.
In part, Castelli said, "I'm here to show solidarity for the Ukrainians and support their refugees. We need to support their intelligence and military. The Ukrainian people are paying a dear price."
Purtorti referred to Putin as, "a maniacal man who is afraid of democracy. We even got the Swiss on board. This is about democracy and peace. I am praying for peace in the world to be reached."
PULLED TOGETHER QUICKLY
One of the organizers, Asa Thomas-Train, expressed his feelings after the rally. "I thought it was successful and was especially touched by the happenstance presence of Alex, the Ukrainian descendant, taking over and getting such a lift from the gathering."
Martha Swan of JBL! Said, "This was pulled together very fast, in a matter of days, by Adirondack Voters for Change based in Saranac Lake, Unite the North Country in Keene and Keene Valley and John Brown Lives! We wanted to provide an opportunity for people to come together in solidarity to peacefully express their opposition to the war Russia is waging in Ukraine. Forming a peace sign, which originated as a symbol for nuclear disarmament, carried a dual message."
Swan continued, "That close to 100 people came, from all walks of life, from many different towns and villages to trudge across a snowy field to add their voices to the worldwide clamor for peace in Ukraine and an end to Russia's war makes our gathering a success, a beginning but without doubt a success."
Email Alvin Reiner at: rondackrambler@gmail.com
https://www.pressrepublican.com/news/praying-for-peace-keene-rally-shows-support-for-ukraine/article_7a7139f4-9e95-11ec-ae4f-8f9b5e46554c.html