Celebrating 125 Years of State ownership of John Brown Farm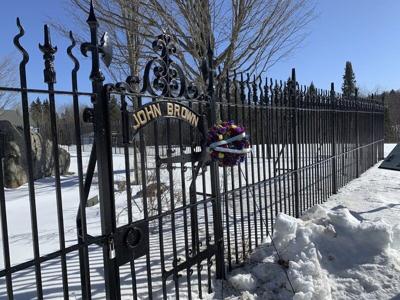 NORTH ELBA – On March 27, 1896, New York State officially acquired the John Brown Farm formalizing that it would "continue to be dedicated and used for the purposes of a public park or reservation forever."
To mark the 125th anniversary of this significant acquisition, John Brown Lives!, the Essex County Historical Society and the NYS Office of Parks, Recreation and Historic Preservation are coming together at the John Brown Farm State Historic Site on Saturday, March 27 at 11 a.m. to herald New York State's far-sighted leadership that has ensured the preservation, integrity, and accessibility of abolitionist John Brown's Adirondack home and final resting place for more than a century.
A series of commemorative, cultural and educational programs is planned to involve the community at the John Brown Farm and around the region.
"We are honored to be joined by so many partners, and excited to announce the launch of a year-long celebration that not only looks back on the 125 years of public and private efforts on behalf of the John Brown Farm," Martha Swan, executive director of the freedom education and human rights project John Brown Lives!, said.
"Our hope is that drawing attention to this anniversary will be of use to our communities in this crucible moment of reckoning with our past, and we are planning a series of commemorative, cultural and educational programs to help us all do the work that needs to be done."
"John Brown's commitment to gaining full humanity for enslaved people of African descent remains so relevant in our lives today," Lavada Nahon, interpreter of African American History for the NYS Bureau of Historic Preservation, said.
"The Farm gives us an amazing place to embrace and contemplate his legacy and influence in our lives, while experiencing the beauty of nature throughout the year. A unique combination fitting for a unique person, and those who stood with him."
"The John Brown Farm is significant for many reasons, including ties to early African American settlers, voting rights and farming history," Aurora McCaffrey, Essex County historian and director of the Adirondack History Museum, said.
"This is a great opportunity to reinterpret this very important historic site, as well as to secure the future of the property."
Speakers at the event on March 27 will include:
• Martha Swan, Executive Director, John Brown Lives!
• Martin Tyler, Vice-President, John Brown Lives!
• Lavada Nahon, Interpreter of African American History, NYSOPRHP Bureau of Historic Sites
• Aurora McCaffrey, Essex County Historian
• Sandra Weber, historian/author finalizing manuscript on history of John Brown Farm
https://www.pressrepublican.com/news/local_news/celebrating-125-years-of-state-ownership-of-john-brown-farm/article_4ff0b86d-e4bb-5a6f-8479-8c6053e696db.html?fbclid=IwAR1Bzybz01rxeyBoQ4SCTOzXZpm28sx7UqEgbxsq_Eg5j8_4sQbBt6KSZ6s